St Vincent de Paul Society
The SVP main aim is "to tackle poverty in all its forms through the provision of practical assistance to those in need."
The concept of need is broader than financial hardship, so visiting people who are sick and lonely, is also a significant proportion of our work. The essence of our work is person-to-person contact and spending time with people is our greatest gift.

Our "Beatitude" volunteer members at St Alban's, motivated by their faith, are committed to meaningful and long term befriending. Inspired by the message of the Gospels they seek and find those in need and offer them sincere friendship. As a group we want to support the extended community by offering additional practical support such as food including hampers, or financial help where needed.
As in the true spirit of human kindness we offer friendship and practical help to all we visit, without regard to faith, ethnicity, status or sexual orientation.
As Pope Francis comments "Dear young people, do not bury your talents, the gifts that God has given you! Do not be afraid to dream of great things!"
SVP is an international Christian voluntary organisation with a key aim dedicated to:
* tackling poverty and disadvantage by providing practical

The Society is a lay organisation initially formed in Paris in 1833 by Blessed Frédéric Ozanam and his companions, and active in England & Wales since 1844.
What does the Society do?

· The Society offers help to all in need, irrespective of creed, colour, race or lifestyle
· Befriending people in homes, hostels, hospitals and prisons
· Providing food and accommodation for the homeless
· Helping refugees
· Providing support and guidance for those in debt
· Running community shops, food banks and furniture and clothing stores
· Providing transport
· Supporting family holidays
· Supporting SVP members in developing countries
Welcome all young people who want to live their faith in a practical manner by helping the poor." Blessed Frederic Ozanam - the Society's founder.
It is with great pleasure that St Alban's Catholic High School became an affiliated member of St Vincent de-Paul setting up our own conference earlier this year. Fr Tony Rogers celebrated Mass and our young 6th Form volunteers were commissioned.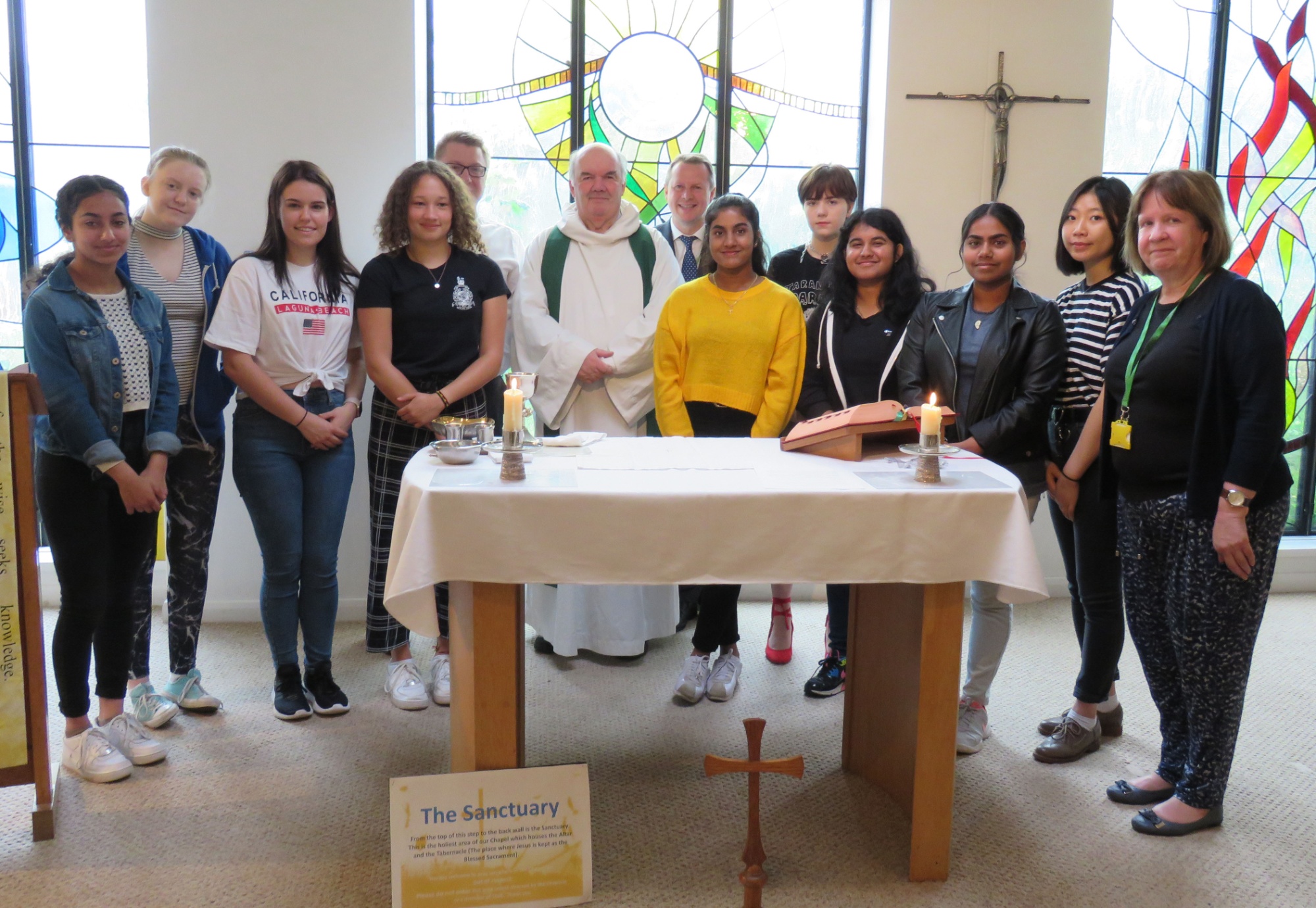 St Alban's SVP B-attitudes group 2018-2020
Further information:
https://www.svp.org.uk/involve-young-people
'B-Attitude' information sheet for further information regarding the roles available can be found here

We will be launching a new project to collect donations to create hampers for our wider school community as well as working towards creating a number of packs that will be sent to SVP (London) to support the homeless this Christmas. It has been a very sad year for many in our community and we hope by offering some human kindness to those who feel most vulnerable this year the light of Christ will shine brightly bring hope over despair.