Pathways 2021
Our Pathways programme begins straight after the Easter holidays. Students in Year 8 have had an assembly on Tuesday 23rd March 2021 outlining how the programme will run this year. This information, and more, can be found in the Pathways 2021 introduction video below:
Students in Year 8 will receive a copy of this year's Pathways booklet on the first day of the summer term. The booklet outlines how the whole programme will run, with information on every subject available in years 9 to 11. It also contains details of how the Pathways choices can be made online.
A copy of the Pathways booklet can be downloaded by clicking on the image below: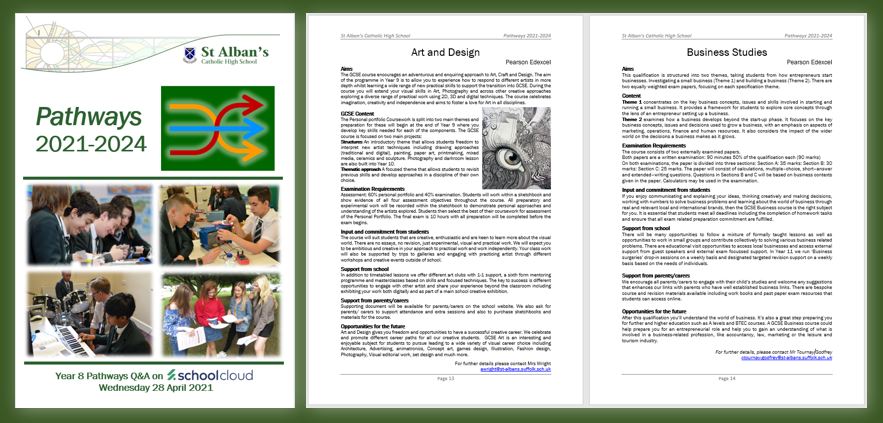 The subject leaders of our Pathway subjects have also recorded short videos with details about their subject at GCSE and with information from students currently studying the subject. Please click on an image to go to the video on our YouTube channel:

Art & Design Business Studies Computer Science Creative iMedia Design & Technology
Drama French Food & Nutrition Geography History
Music Spanish Sport (BTEC) Textile Design
The Pathways blocks for 2021 are as follows. Students will choose a main and reserve choice from each block.

For information on the Alternative Curriculum choices available please contact Mrs Pickard at cpickard@st-albans.suffolk.sch.uk
On Wednesday 28 April 2021 we will be holding a Pathways Question and Answer session on SchoolCloud. Parents/carers and students will be able to talk to up to four subject leaders if they have questions about the subject. Further details will be available nearer the time.
Choices for September 2021 must be made on SIMS Options Online by Wednesday 12 May 2021