Catering Services
About Caterlink
Caterlink are delighted to be working in partnership with St Alban's Catholic High School and would like to tell you about us and our catering services. We love food and hope you will love what we provide for you at your school.
We embrace natural ingredients, love seasonal produce, and develop ethical trading with many of our suppliers. Our meat, fruit & vegetables and bakery is all sourced from suppliers as near to the school as we can. Our menu meets the SILVER Food for Life Standard.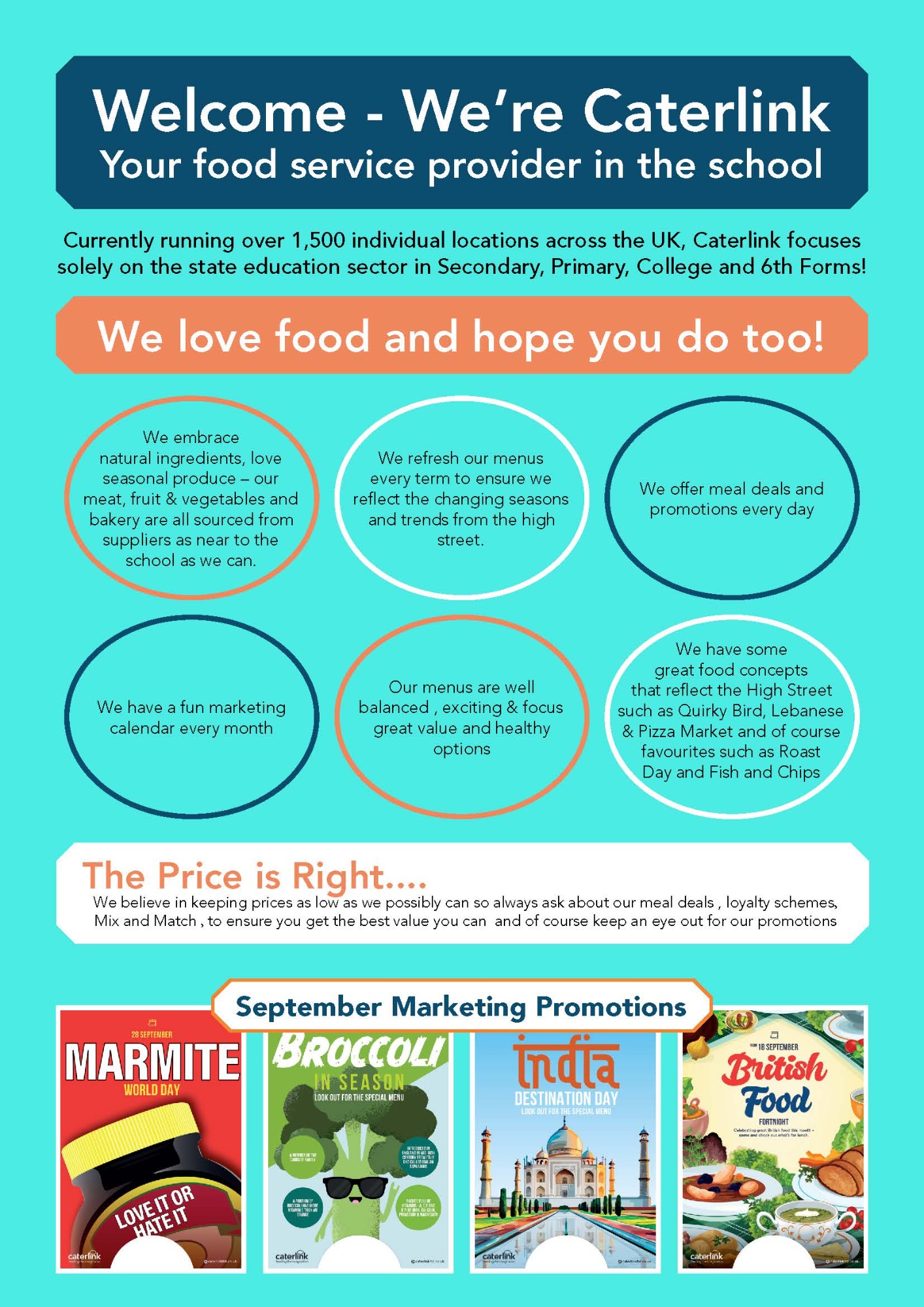 Our menus are refreshed every term to ensure we reflect the changing seasons and trends from the high street. 95% of all our food is freshly prepared from scratch on site by our team, so if you have a fantastic recipe you would like us to consider, come and talk to us at any time you visit the facilities.
Look out for our special offers and promotions throughout the year! We are also proud to say all our meals are nutritionally compliant with the Government Standards for Food Served in Schools.
You can find out more about us on our website www.caterlinkltd.co.uk
The price is right
We believe in keeping prices as low as we possibly can so always ask about our meal deals and loyalty schemes to ensure you get the best value you can for your school meals. All our meal deals are priced below and look out for our termly promotions and special offers!
Click here for the Autumn Term 2023 Menu
Click here for the Breakfast Menu
Click here for the Canteen Meal Deal Menu
Cashless catering
Frequently Asked Questions
What is a cashless system?
A Cashless Catering System is a solution which is purpose designed to meet the ever evolving needs and demands of the catering provision, required by today's schools and academies. The Trust-e Cashless Solution allows schools to be better able to provide their students and staff with a faster, more efficient and more appealing meal service.
What is 'biometric?'
Biometric is simply a method of identifying an individual person. The Trust-e Cashless System uses and algorithm based scan, which reads between 50 and 130 points on the finger/thumb. It is not a fingerprint in any way, shape or form and is of use only in the Cashless System.
How does a biometric system work?
The information of a pupil or staff member, who has been biometrically registered, is stored on a secure biometric controller within the school, which only your provider, Nationwide Retail Systems, can access with permission from the school. Once an account is credited, the pupil or staff member places their finger/thumb on the EPOS Terminal Biometric Reader, which looks up their account and allows them to purchase items using only this method of identification.
How does my child register on the biometric system?
At the start of each academic year all Year 7 pupils will be registered where parental consent is received. Students joining in-year will be informed of the process when they join. Your child will attend at a requested time and will be required to place their finger/thumb on the Biometric Reader twice to obtain a matching template, which only takes a few seconds.
Online Payments
To make a payment online please use your parentmail account.
How can I check the credit on an account?
This can be accessed via your parentmail account
What is the maximum amount that can be spent in the canteen in one day?
A maximum spend limit of £5.00 per day will be programmed into the system
Can I change my child's 'daily spend limit?'
Yes – the amount your child can spend throughout one day can be changed by written request to the school. Please see above for information on the current spend limits in place.
What happens if my child's account is not in credit?
An automatic overdraft can be set up, which will allow the pupils to go into debit to £2.35 (Cost of one meal deal)
How do 'free meal' entitlements work?
All free meal entitlements will be entered on to the system prior to the 'live' day. The Cashless Catering System will, on a daily basis, automatically allocate the appropriate accounts with the free school meal amounts. Pupils with FSM entitlement remain anonymous at all times as all account types are accessed in the exact same manner, regardless of whether paid for or not. Please note that any monies not spent from the daily free meal allocation will not be carried over to the next day.
Can anyone else use my child's account?
No – due to the extensive security on biometric templates, no-one will be able to access your child's account. As a secondary precaution, a photo image is allocated to each pupil (at the schools discretion).
Can I request a printed report of my child's meal intake?
Yes – the Cashless Catering Solution allows numerous reporting facilities, including dietary habits. These may be requested by contacting the Head of the School Kitchen.
How do I request a refund?
Due to GDPR requirements, we are no longer able to accept manual refund request forms.
Could you please complete this form: CaterLink Ltd parent refund form, so we have the necessary details to process your refund?
If you do not have a Google account/want to sign into Google to submit this form, please use this one CaterLink Ltd parent refund form - No Upload. However, you will not be able to upload a screenshot of account balance, which may result in a payment delay while we confirm your system balance.
If there are any issues or you have any other queries, please do not hesitate to contact us.
meals@wshgroup.co.uk
School facilities
Students can eat in our bright and airy canteen or if their in a rush to play outside they can purchase 'grab and go' food from our service pod. This is located on the edge of the school field away from the main dining area to facilitate a wider menu range and reduced queuing.