COVID-19 and other important news - Click for further information
St Alban's Catholic High School - September 2021
The Government have asked all Secondary Schools to offer their students two COVID-19 tests or 'lateral flow tests' on-site on their return to school in September.
The first test will be taken before your child returns to school, the second during their first full week. Tests will be taken based on the form group that your child is in. Students should come to school reception where they will be directed by a member of our testing team. Please see the timings below: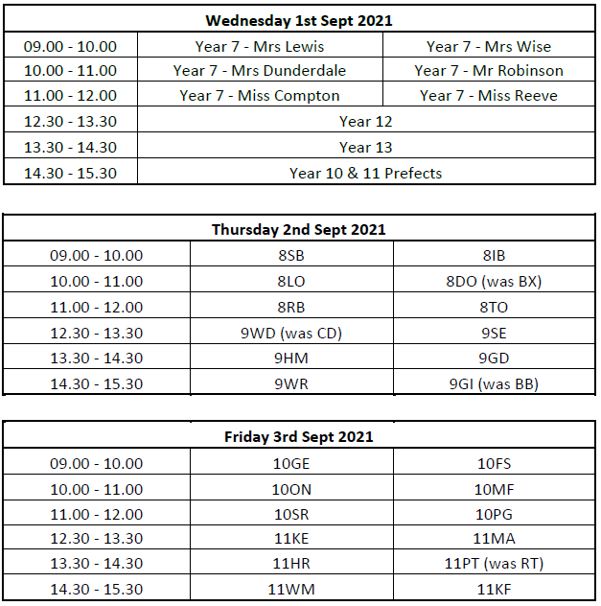 The School day:
We will begin September with a structure we have used post-lockdown, and review this next term. This is because of rising rates of infection currently, and the confidence in our current response to deal with this.
Following the testing days, Year 7 and Sixth Form start on 2 September 2021, Years 8 - 11 on 6 September 2021.
| | |
| --- | --- |
| Arrive at school | 08:50 |
| Form Period | 09:00 – 09:20 |
| Period 1 | 09:30 – 10:35 |
| Break | 10:35 – 10:55 |
| Period 2 | 10:55 – 12:00 |
| Period 3 | 12:10 – 13:15 |
| Lunchtime | 13:15 – 14:05 |
| Period 4 | 14:05 – 15:10 |
For further information please visit our COVID-19 information page

here
Following a number of enquiries we have put together a FAQ sheet about what to do in case of a COVID-19 related in your family or if a child becomes ill. You can download a copy below:
Please note that all students must follow government guidelines if returning from abroad after the Summer Holiday. The latest information about countries for which a quarantine is required can be found here. Please do not return to school until any required quarantine period is complete.
In the Autumn term, all students and staff will continue to be asked to wear face coverings whilst moving around the school and in queues for lunch, unless exempt. Students travelling to school on public transport may also need to wear face coverings.