COVID-19 and other important news - Click for further information
Following guidance from the UK Government, St Alban's Catholic High School will re-open to all students in September 2020.
Please note that all students must follow government guidelines when returning from abroad. The latest information about countries for which a 14 day quarantine is required can be found here. If you have travelled abroad during the summer break, please do not return to school until any required quarantine period is complete.
Please note that from 30th July 2020 the self-isolation period, if you have COVID-19 symptoms or a positive test, has increased to 10 days. More details can be found here.
You can find further details below and on our COVID-19 information page, link below. You can also find details of our virtual induction programme at the bottom of this page.
To give our new year 7 the induction that we were unable to provide this summer they will start with two full induction days in September. All other year groups will have a half day induction before starting back full time. This will ensure that all students are aware of the details of our updated risk assessment, the staggered start. lunchtimes and end of each day and how year group "bubbles" will work. This will also include updated information about the behaviour policy and fire evacuation procedures.
The start days for each year group are as follows: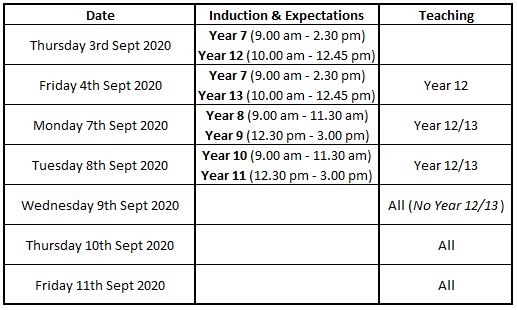 During the summer break, should any parents have any safeguarding concern, contact the NSPCC: https://www.nspcc.org.uk
---
Start of Year Packs

are also available for all year groups

- click here
---
Virtual Induction and Live stream