Why St Alban's?
ST ALBAN'S SIXTH FORM IS OPEN TO ALL YOUNG ADULTS AND OUR COMMUNITY BENEFITS FROM THE MIXTURE OF IDEAS, BELIEFS AND GIFTS THAT EACH INDIVIDUAL BRINGS.
Our Sixth Form provides an outstanding education that equips our students with much more than just high academic attainment. We are proud that our Sixth Form students are taught to think for themselves, question everything and put across their views articulately.
Our mission means that we are responsible not just for academic success but to ensure each young person leaves us as a confident, kind, considerate individual, equipped to face our ever-changing world.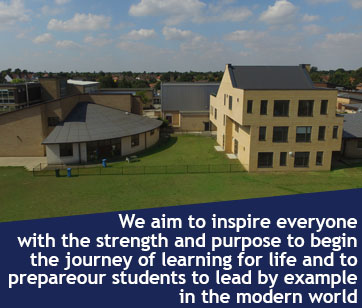 A Catholic Sixth with Christian values – but what does this mean for you?
Firstly, it means that we are friendly and inclusive. More actually - it means we are a family. One that cares not just about your grades, but you as a person.
We have a strong pastoral and chaplaincy team to ease the pressure of A Level studies and support any worries that you may have – we want your time at St Alban's Sixth Form to be a happy and successful one.
Our young people grow and develop in a caring environment. We pride ourselves on the importance of developing students to with a sense of moral purpose.
Citizens of the world should have a broad perspective on local, national, and global issues. We provide students with the opportunity to explore their views together, also encouraging engagement with charities and social justice in the local community and beyond.
We need to provide an education which teaches critical thinking and encourages the
development of mature moral values - Pope Francis